Tearful last Thomas Cook flight as travelers scramble to get home
The last scheduled Thomas Cook flight to land shortly after company's collapse saw flight crew in tears, according to passengers on board, Tearful last Thomas Cook flight as travelers scramble to get
home
as travelers around the world scrambled to reschedule hotels and flights
.
Wendy Willis, 57, told CNN the atmosphere on the flight from Orlando, Florida, to Manchester, England, was very somber before landing at 8.52 a.m.
"A sad day, another big company gone, staff were crying on the plane and ground staff were really upset and tearful," she said. "But they were so professional and will be a credit to anyone who employs them."
Willis said she learned of the Thomas Cook's collapse on Facebook before the flight, which was the operator's final flight according to Flight Radar.
"We only knew it was Thomas Cook's last flight just before we landed and it was confirmed by staff after we landed," she added.
Wedding 'ruined'
Another couple, from Hucknall in the UK county of Nottinghamshire, look set to have their wedding ruined by the demise of the company, which shares the same name as the unfortunate groom.
"We found out today in the early hours," Amelia Binch
,
27, who was due to marry Thomas Cook, 29, on the Greek island of Rhodes, told CNN. "We were devastated and still are!"
The couple had booked a wedding package with Thomas Cook last year. The operator promised a "special surprise" to the couple since the groom shares the same name, Binch said.
But they haven't received anything, Binch added. The wedding package included not only the ceremony, but also flowers, cake and entertainment, she added.
"We have some family out here but our friends are due to be flew out Wednesday (including best man) [and] won't be able to come," Binch said. "We have no plans but to wait and find out when our flight home is."
'Hoping for info'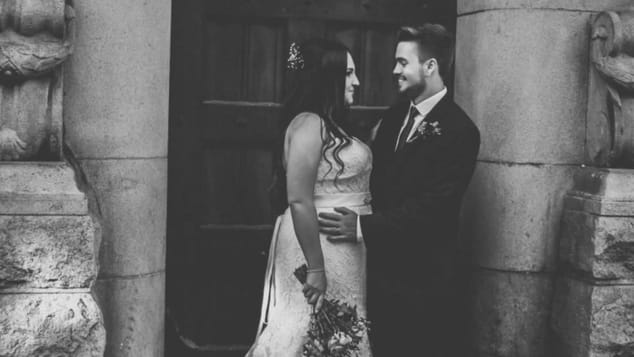 Courtesy Laura Schofield
With many affected UK travelers covered by protection schemes, contingency plans were already in place to repatriate them and cover hotel costs, but shock waves from the collapse were being felt in destinations around the globe.
Travelers stuck in airports or waiting for information in their hotel said the situation seemed relatively calm, with plenty of information available about how they will make their way home. Some said the resorts they were staying at seemed subdued following the
news
.
Sunil Mistry, a London-based TV producer staying on the Spanish island of Tenerife, said the UK's Civil Aviation Authority's website was offering clear details about repatriation flights, although no information about his return journey scheduled for September 26 was available.